Overview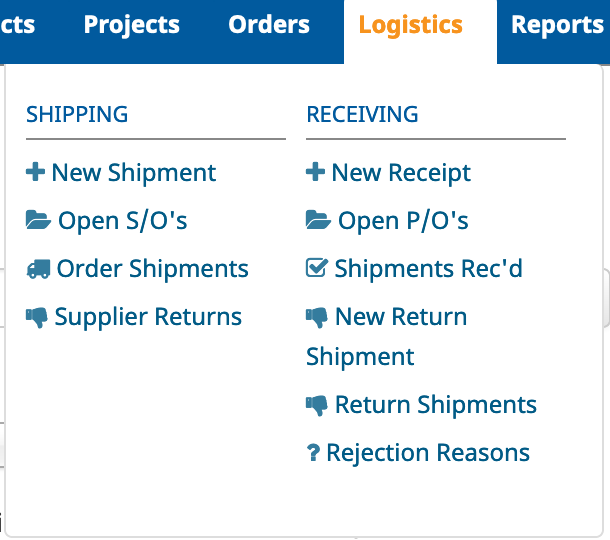 Once Products have been ordered from your Suppliers through the creation of a Purchase Order, these items can be received into your inventory through a common Receiving procedure.
To receive products (either inventoried or non-inventoried) do as follows
Go to Logistics / Receiving / New Receipt.
Select a Supplier from the drop-down list.

The outstanding items will populate. if you have multiple POs going to a different ship-to location, choose the ship-to address from the list. Choose the PO you are receiving and then click on the button Filter Open Order Items. A list of PO lines will appear.

You can receive items individually by clicking the Receive Line button to the right of each item. or You can enter the quantities received for each PO line and then click on the Receive All button.


You can Reject items by including a non-zero value in the Reject field. You will need to select a Rejection Reason, too.
See the Returning Rejected Items to send the rejected items back to your supplier.

Select a Receipt Date.
Click on the Post Receipt button. This will save the Shipment Receipt record and post it to General Leger as appropriate.
Impact on GL
The Products received can be either non-inventoried items or inventoried items. When you receive non-inventoried items, there is no General Ledger transaction associated with the Shipment Receipt. For non-inventoried items, whose costs are either capitalized or expensed within the period, their related General Ledger posting occurs when you enter the Bill for the received Products.

When you receive inventoried items, on the other hand, their costs (excluding shipping or other procurement costs) are posted to General Ledger immediately (dr: Inventory, cr: Supplier A/P account). When the related Bill is entered for the Shipment Receipt, these costs are adjusted to reflect the actual billed amounts plus any related miscellaneous charges.