Overview
A Sales Order is your record of a request for products and services from one of your customers.
The Sales Order allows you to keep track of services to be rendered and products to be shipped to your customers. In fact, in order for you to ship a product -- either inventoried or non-inventoried -- using VersAccounts' Shipping module, you must first enter it as an item on a Sales Order.
Create a Sales Order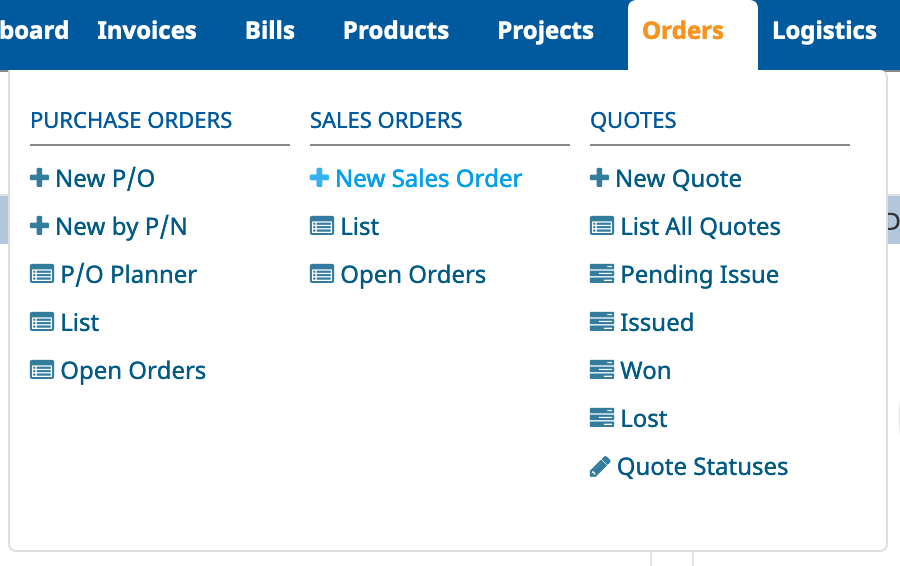 From the top menu, click on Orders, New Sales Order.
A Sales Order is comprised of two main sections: 1) The Header and 2) the Line Items.
The Header of the Sales Order contains information pertaining to all of the line items. This information includes:
Customer contact / invoicing address
Customer ship-to address (if different from the contact / invoicing address
Payment Terms
Payment Currency & Exchange Rate
Internal Reference Number
Customer's Purchase Order Number
Sales Order Date
Each line item of a sales order includes the following information:
Line Item Number
Product Name and Description
Quantity | Unit-of-Measure
Price per Unit-of-Measure
Applicable Taxes
Line Item Description (optional)
Line Item Comments (optional)
Expected Delivery Date
See a video walkthrough of a sales order.