The Versa Cloud ERP (Standard Edition) is modern all-in-one business management solution created for fast-growing inventory-heavy manufacturing, distribution, and e-commerce business moving to the next level. It is more powerful than old software used by your larger competitors, yet simple and affordable enough for use in businesses like yours.
Versa Cloud ERP for eCommerce is a special version of the Versa Cloud ERP offering, created especially for Shopify store owners with the ability to connect to your Shopify store in just a few clicks.
You can now sign up for Versa Cloud ERP for eCommerce's freemium account for free. Enjoy all the features you need to manage your Shopify store and more without breaking the bank.
---
Will my eCommerce Basic Plan expire?
No, eCommerce Basic is a freemium plan where you can sync your Shopify Store and use all features for as long as you need so you can really make sure they are a good fit for your business before upgrading. The Basic Plan is up to one Shopify store and one user only.
How much does Versa Cloud ERP for eCommerce cost?
Subscription to the Versa for eCommerce Basic Edition offering is Free. Three pricing plans are available for the Versa eCommerce Plus* Edition:
eCommerce Basic
Free
Limited to 1 user only.
For details on the capabilities and services offered by the eCommerce Basic and Plus Editions of the Versa Cloud ERP solution as well as the Standard Edition, please visit the pricing page on the Versa website.
eCommerce Edition customers may upgrade to the Standard Edition for a one time Upgrade Fee of USD $4,500 when they need additional capabilities beyond what is available in the eCommerce offering.
There is no Upgrade Fee for eCommerce customers who purchase the optional USD $4,500 QuickStart Guided Self Service Implementation package.
All charges are billed in USD. Recurring charges, including monthly or usage-based charges, are billed every 30 days.
How does the Implementation Process work?
With Versa for eCommerce, there is no "implementation" in the traditional sense. Customers can connect Versa to their Shopify store in a few clicks and they will be ready to process orders for shipment in Versa immediately.
How do I migrate data from my Non-Shopify Systems?
Data from other applications like accounting, inventory management, shipping systems as well as Excel spreadsheets can optionally be migrated via Versa's Getting Started import/export capability.
This is an optional step and it is not required to download orders from Shopify and process them in Versa.
Can I get help with Data Migration and Setup?
Yes. For customers who need assistance with data migration and setup, Versa offers both a Guided Self-Service option as well as a Full-Service option. Contact Versa for additional details.
What kind of Support is Included?
Email support is included.
Customers also have access to Versa documentation and training at https://support.versaccounts.com/hc/en-us
What kind of support is included in the eCommerce Basic Plan?
We also provide a Knowledge base where you can get answers to your inquiries related to the software. You can also get support from the Community forums.
Can I get Phone and Web Conference Support?
Yes. Phone and Web-Conference Support can be added for USD $150/Mo per Versa for an eCommerce subscription. Or for a time fee of USD $150 per incident. There is no charge if an incident is related to a product defect.
What can I Customize in Versa for eCommerce?
Versa for eCommerce allows Forms (documents like Sales Orders, Pick Lists, Shipping Documents, Invoices, etc.) and Reports to be customized by Customers.
Versa for eCommerce also offers dozens of settings that can be used to customize how the Versa software behaves including rules to configure the shipping modules as well as the Versa to Shopify integration.
User access can also be customized to allow Versa for eCommerce Users access to only those parts of the Versa application that they need access for their jobs.
What capabilities are included in the Versa for eCommerce software?
Versa for eCommerce includes many of the key accounting, inventory and warehouse management, shipping a logistics, eCommerce and advanced reporting, and business intelligence capabilities in the standard product including the features below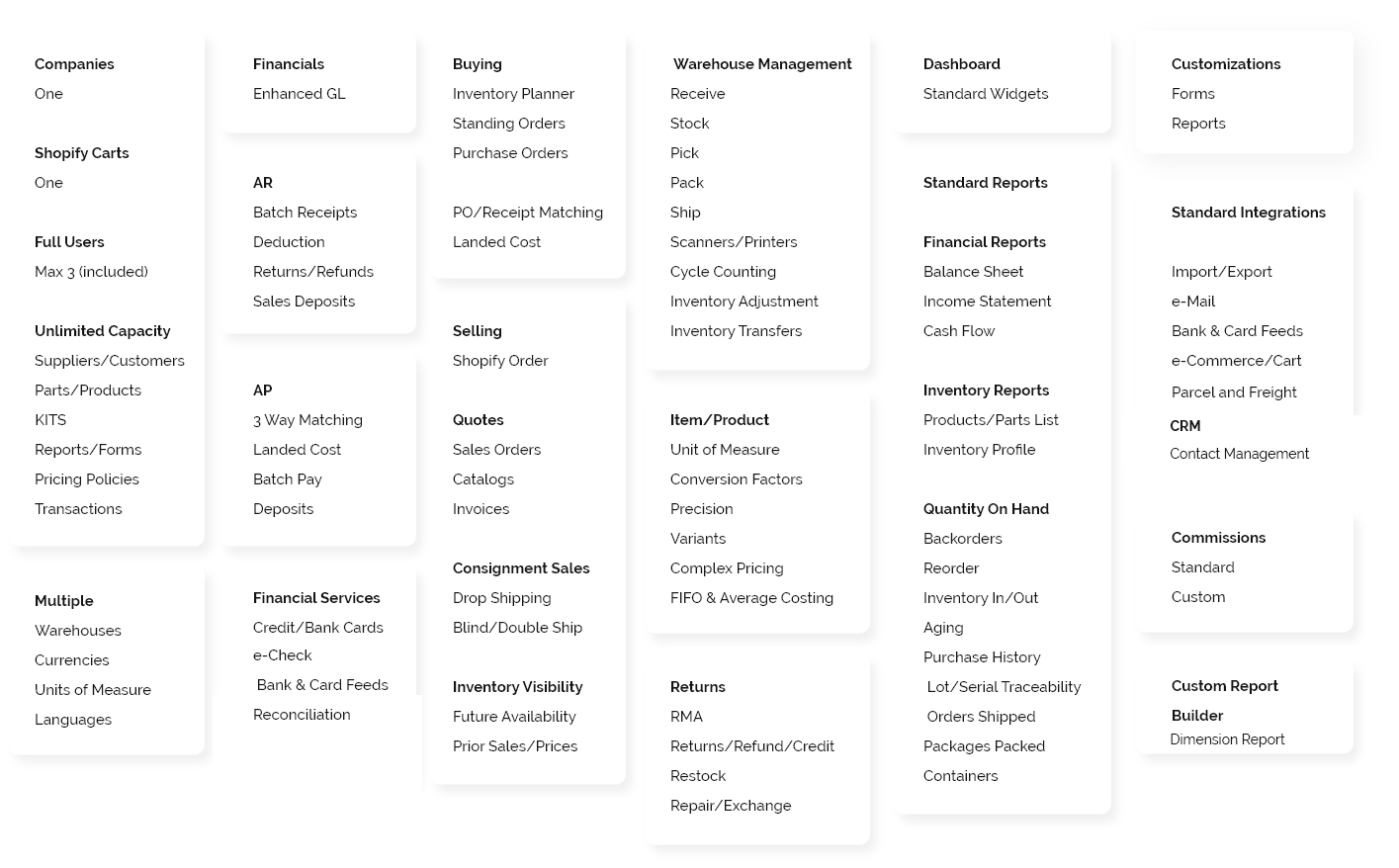 What capabilities are not included in the full version of Versa for eCommerce software?
Need more than 3 Users? Support for multiple eCommerce shopping carts and marketplaces? Multiple companies? Or any of the other capabilities of the standard/full Versa Cloud ERP system?
Some of the additional capabilities supported in the full version of Versa Cloud ERP include:

How do I upgrade to the Full/Standard Versa Cloud ERP software?
Contact a Versa business consultant for more information on the standard Versa solution sales@versaclouderp.com
What are the integrations I can make with the free version?
The eCommerce Basic plan includes Base System Integrations, such as: 1 Shopify Shopping Cart, 1 Shopify POS, Import/Export, e-Mail, Scanners, Label Printers, Parcel/Freight Carriers, OFX Bank & Card Feeds, Credit Card.
How does the Integration work between Versa for eCommerce and Shopify
Master Data Setup
Versa downloads Customer, Product, Variants, and Pricing information from Shopify to sync the master records in the two systems and prepare Versa to operate with Shopify.
Order Processing:
Once Shopify and Versa have synced up Shopify Orders and associated payment details are periodically downloaded into Versa as paid Sales Orders on a scheduled or ad-hoc basis
If Versa is used to ship the downloaded Shopify Orders using the normal Versa shipping workflow the shipping details including Tracking Number, Ship Date, Quantity Shipped, etc. are sent back to Shopify that the Customer can be notified.
Third-Party Shipping:
Optionally Shopify Store owners sometimes use 3rd party products that are integrated with their Shopify Store for shipping. In those cases, the shipping details are downloaded to Versa from the Shopify Store once those details are received by Shopify from the 3rd party offering.
Master Data Sync
Similarly on a periodic basis Versa optionally uploads the latest Inventory and Pricing information to Shopify to keep both systems in sync.
Product Data Update
Product Master Data when changed in Versa including descriptions and images can be synced with Shopify by re-publishing the data to Shopify as needed.
Does Versa handle Shopify Returns and Refunds
Yes. Refunds/Returns done in Shopify are downloaded into Versa and recorded.
Is the Versa to Shopify Connector from a 3rd Party
No. The Versa to Shopify integration is built into Versa and does not utilize a 3rd party connector. Because of this, the integration has deeper and more robust functionality than 3rd party connectors. It is also more reliable and is supported directly by Versa. In case of questions and especially problems customers only have to contact Versa. This eliminates the problem of pointing fingers and the need for customers to coordinate multiple parties that are typically encountered when 3rd party connectors are used.
How does Shipping work in Versa for Shopify Orders
Once Shopify orders are downloaded into Versa for eCommerce either on a scheduled or on a on-demand basis, the orders can be shipped using Versa's shipping module that includes batch shipping and rules-driven mizations for eCommerce businesses.
The is no need for add-on shipping software like Shipworks, Shipstation, etc with Versa for eCommerce.However, Versa for eCommerce also supports add-on shipping software for customers who prefer using such add-ons.
Does Versa for eCommerce come with integrations to Parcel Carriers?
Yes, Versa comes with direct integration to carriers like USPS, UPS, FedEx, etc and we are adding additional carriers all the time either via direct integration with these carriers or via intermediate integration hubs. New support for EasyPost is added on May 2020. EasyPost integration with over 100 carriers around the world.