Versa for eCommerce is a special version of the Versa Standard Edition offering, created especially for Shopify store owners with the ability to connect to your Shopify store in just a few clicks.


Index
1. Connect to Your Shopify Store
Set up a store for new users
You go to
Shopify Appstore
and find our app (search for Versa Cloud ERP) and then add the app to your store. You will be asked to log into your Shopify store and grant Versa access to your store's data. You will be asked to sign up for a Versa subscription. Then you would need to grant Versa Cloud ERP permission to access to your store. You must grant the access in order for the integration to work.
2. Setup Webstore Settings
Once you have granted the permission in Shopify, Go back into Versa and make sure you are on the web store listing page. (Tools Menu, Web Stores). You will see your web store listed. Click on setting to set up the setting for the integration. This will control how Versa access your store.
The setting page is divided into a few sections.
See here
for more details.
3. Load Your Products
Next step is download data from your store. After the webstore setting is saved, you would have the chance to import product, pricing and inventory levels from your Shopify store into Versa.
Import Products From Shopify
Versa can import all the products in your existing store automatically. Product category will be created based on the collection set up in Shopify.
If you do not want Versa to import the products for you, another way is to load the products through an CSV import (from Tools menu, Imports and Exports, Parts, Products and Services). See here for details. This might be useful if you have additional products to load and they are not in Shopify store.
Import Prices and Inventory
If the price and inventory levels information in your Shopify store is up to date, you can choose to have Versa import the data for you. Or you can import them yourselves. See 4 Load Other Data for details.
Switching in the middle of a fiscal year
If you are switching from an existing accounting system, you made the switch in between your fiscal year start and end, you want to bring in additional data from the beginning of the fiscal year to now (when you switch to Versa), you have 2 options:
1. Import all the transactions into Versa from the beginning of the fiscal year to now. You can import the opening balances of all your accounts as of the beginning of the fiscal year and then import all the transactions since the fiscal year start. There are many details you can import such as GL transactions for your accounts, all invoices and all bills, inventory purchases and adjustments.
2. Only import the current balances as of now (when you switched). This means the transaction details from beginning of the year till now would not be in the Versa System. This method is easier and preferred by most users. If you can keep your old system around for the remainder of the fiscal year, all the details missing from the Versa system can still be looked up.
Switching at the beginning of a fiscal year
If you are switching from an existing accounting system, and you made the switch right at the beginning of the fiscal year, then you can just You can import the opening balances of all your accounts as of the beginning of the fiscal year.
Import Additional Products and Inventory Level
If you have additional products to load and they are not on Shopify, you can use the import from CSV capability in Versa to import additional products and inventory level. See this article about how to do it. This might take a long time if you have a lot of products.
or you can create the necessary records manually one by one.
Import Chart of Accounts & Account Balance
If you are coming from an accounting system, you can import your chart of account and trial balances as well. See support article about chart of account import and trial balance import. To import your account balances, you would need to determine a cut off date and import the trial balance as of that date from your current system.
Bulk Inventory Level Import
To import your current inventory, go to Tools menu, imports and exports, bulk inventory adjustment. Click on Download Populated Template File With All Products to get a file with your product pre-populated. See more details here. Enter the current quantity on hand of your inventoried products that you have in all your warehouses. (Warehouse is called a Facility in Versa).
There are additional records you can import from Tools menu, Imports and Exports. These include price policies, sales order, sales invoice, bills, bill payments, Customer.
5. Daily Operations
Once the Shopify store is setup, Versa will download your orders automatically on a regular interval. (every hour during business hours). Shopify orders will appear as sales order (see Order menu, Sales Orders, Open Orders). When an order is shipped in Versa, the Shopify order will be marked as fulfilled. You can also manually force a download of orders.
You can also configure Versa to push inventory levels and/or prices to Shopify. This happens once a day automatically. See Pricing and Inventory Level Updates below.
See this diagram about how the information flows.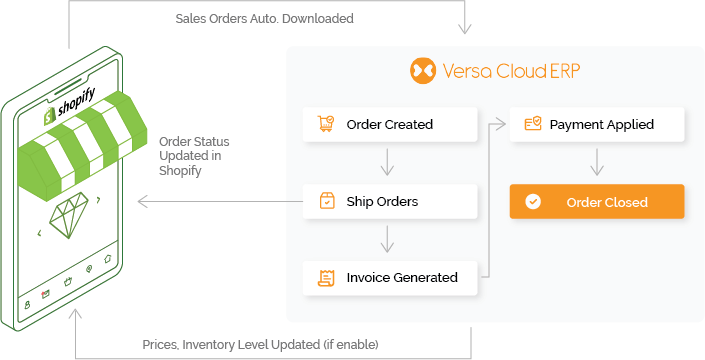 Matching Products In Both Systems
Using the setting specified in Match Product by, Versa can intelligently link products in Versa to products in Shopify during synchronization. Part Number in Versa is used to map to SKU fields in Shopify. If you want to manually force a matching right away, Go to Tools menu, Webstores page, click on the actions next to the webstore, Link Products to perform such action. This can take some times so let it run and check to log to see if this finishes. Check the log to see if the linking finishes.
Pricing and Inventory Level Updates
Once the products are linked, Versa will then be able to push price updates and inventory changes to Shopify regularly (Once day in early morning) Both can be turned off in webstore setting. The link to update inventory and price is for when you want to manually force the system to perform the updates instead of waiting for the scheduled daily task to run. Orders are imported multiple times in the day. You can also force an order import by clicking on the Import Orders link.
Force Download of Orders
Go to Tools menu, Web stores. Under the Actions list. You can choose to Sync Orders. This will force the system to immediately go to your store and download latest orders.
Viewing Shopify Synchronization Logs
The logs link is for you view any webstore related log. The importing of orders, update or prices and inventory levels would appear in the log.
Viewing Orders
You can view a list of sales orders from Orders menu, Sales Orders. See the open orders to see a list of orders that are not shipped. From the open order page, you can select multiple orders to ship in bulk. Versa support integration with shipping carriers such as Fedex, UPS , USPS (through Stamps.com). With the shipping carrier integration, Versa can access your account with shipping carriers, obtain shipping rates and generate shipping labels and tracking numbers. Your shipping preference such as shipping method (ground, air etc), shipping package dimension, shipping package weight, and custom declarations (for international orders) can be set per order (in the shipping preference area) or set in bulk via Shipping Rules (Setup menu, shipping rules). At the open order page, you can assign pre-defined shipping rules to multiple orders.
See how to bulk ship orders here.
Or you can go to view an order and click on the ship order button to ship order individually. See how to ship an order here.
6. Other Tasks
Versa can do much more than just manage your sales order. Review our getting started guide to explore other areas of the application.