You can create Cases for your customers. This will allow you to track any type of case you like about the customer. Some examples would be Non-Payment, and rejected deliveries.
You need to first create your case types and case status types by going to the Setup menu, then look for CRM. This allow you to categorize the case and track the status of cases.
Under CRM you will find Case Status Types. You can go in there to create new status types.
If you click into Case Types, you can create new case types. For both of these, you can create as many as you like.
When you need to record a new case, you can go to the customer file, and at the bottom, click the down arrow next to update customer. Then you can choose "Log Case"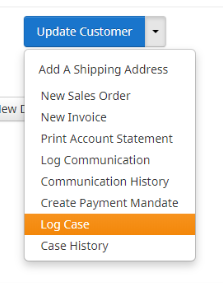 A new case is always associated to a customer. You would fill in the description, the type of case as defined earlier, the current status of the case and a status note .
There is a notes section for a case. You can append as many notes as needed to a case. This can be used to track any update to the case so there is entire history of a case from start to finish.
If a note needs a followup, you can create a follow up for a user . The user will be reminded that they will need to follow up with an action on this note by a certain date,