Versa for eCommerce is integrated with Shopify Gift Cards.

Before using Gift Cards in Versa you need to create gift card as a new product in Versa. Create a new product category for gift card products in Versa. Since Gift card sales is generally a liability before it is used. You should set the revenue account for the product category to be a liability account. The balance of this liability account is the total gift card sold but not used yet. Specify Gift Card Products Category in Webstore Settings


The imported Gift Card Products will have this category set up.

You can get a validation message during the import in logs if the Category is not set up.


The next step is to import Gift Cards from Shopify to Versa. There are two ways to get products into the Versa, both are placed in your Webstore Menu.
Sync Products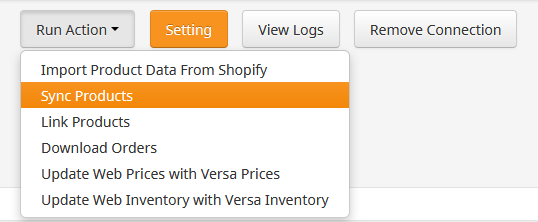 Notice that Product Data Master Resource in Webstore Settings should be set to Shopify.



The second way is Import Product Data From Shopify